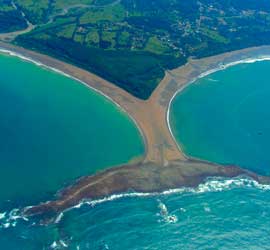 Exploring Costa Rica by charter air services can be an excellent way to see the country's diverse landscapes, from lush rainforests to pristine coastlines. Charter flights offer flexibility and convenience, allowing you to reach remote destinations that may be challenging to access by road. Here are some popular sights and destinations in Costa Rica that you can explore using charter air services:
Arenal Volcano: Charter a flight to La Fortuna or Arenal Airport to visit the iconic Arenal Volcano. Enjoy stunning views of the volcano and its surrounding rainforest. You can also relax in natural hot springs in the area.
Monteverde Cloud Forest: Fly to the nearby airports of Liberia or Tamarindo and then charter a short flight to the Monteverde region. Explore the cloud forests, hanging bridges, and diverse wildlife in this unique environment.
Corcovado National Park: Access the remote and biodiverse Corcovado National Park by chartering a flight to Drake Bay Airport or Puerto Jiménez Airport. Corcovado is known for its pristine rainforest and incredible biodiversity.
Manuel Antonio National Park: Charter a flight to Quepos La Managua Airport to visit Manuel Antonio National Park. Explore the park's rainforest trails and relax on beautiful beaches.
Osa Peninsula: The Osa Peninsula is a remote and pristine area known for its incredible wildlife. Charter flights to Puerto Jiménez or Drake Bay to explore this natural wonderland.
Guanacaste Beaches: If you're staying in the Guanacaste region, charter flights can take you to various beach destinations like Tamarindo, Playa Flamingo, or Nosara. Enjoy the beautiful Pacific coastline and water activities.
Papagayo Peninsula: Access the luxurious resorts and beautiful beaches of the Papagayo Peninsula by chartering a flight to Liberia and then taking a short transfer to your destination.
Tortuguero National Park: Charter a flight to Tortuguero Airport to explore the canals and wildlife of Tortuguero National Park. It's a prime spot for seeing sea turtles during nesting season.
When considering charter air services in Costa Rica, keep in mind that schedules and availability may vary depending on the destination and the charter operator. It's essential to plan ahead, make reservations, and confirm flight details with a reputable charter company. Additionally, be sure to check the latest travel and entry requirements for Costa Rica, especially if you are arriving from abroad.