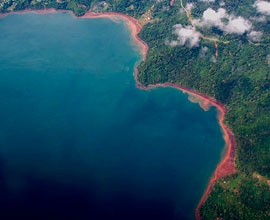 Domestic Flights :
Carate (Corcovado)
Driving Time: 8 Hrs
Flying Time: 2 Hours 10 Minutes
Book a Flight to Corcovado Today
Corcovado National Park in Costa Rica is a stunning natural reserve known for its rich biodiversity and pristine rainforest. While charter flights are not available directly to Corcovado, there are several nearby airports that can serve as entry points to the region. Here are some options:
Juan Santamaría International Airport : Located in San Jose, the capital city of Costa Rica, this is the country's primary international airport. From here, you can arrange a domestic flight to one of the airports closer to Corcovado.
Tobias Bolaños International Airport : Situated in Pavas, a suburb of San Jose, this airport primarily serves domestic flights within Costa Rica. It's a smaller airport and may offer more convenient connections to local destinations.
Quepos La Managua Airport : Located near Manuel Antonio National Park, Quepos La Managua Airport is approximately 75 miles north of Corcovado. It's a popular gateway for visitors heading to the southern Pacific region of Costa Rica.
Once you arrive at Carate Airport, you can then travel to Corcovado National Park by land car, bus, on foot through the park or by taking a short domestic flight to one of the airstrips closer to the park. Local airlines Macaw Airlines, Aerobell, Sansa and Nature Air operate flights to various destinations in the region, including Puerto Jiménez or Drake Bay, which are popular entry points for Corcovado.
It's important to note that availability and schedules of charter flights may vary, and it's recommended to contact us for the most up-to-date information and to arrange a charter flight tailored to your specific needs.
Corcovado Costa Rica Flights